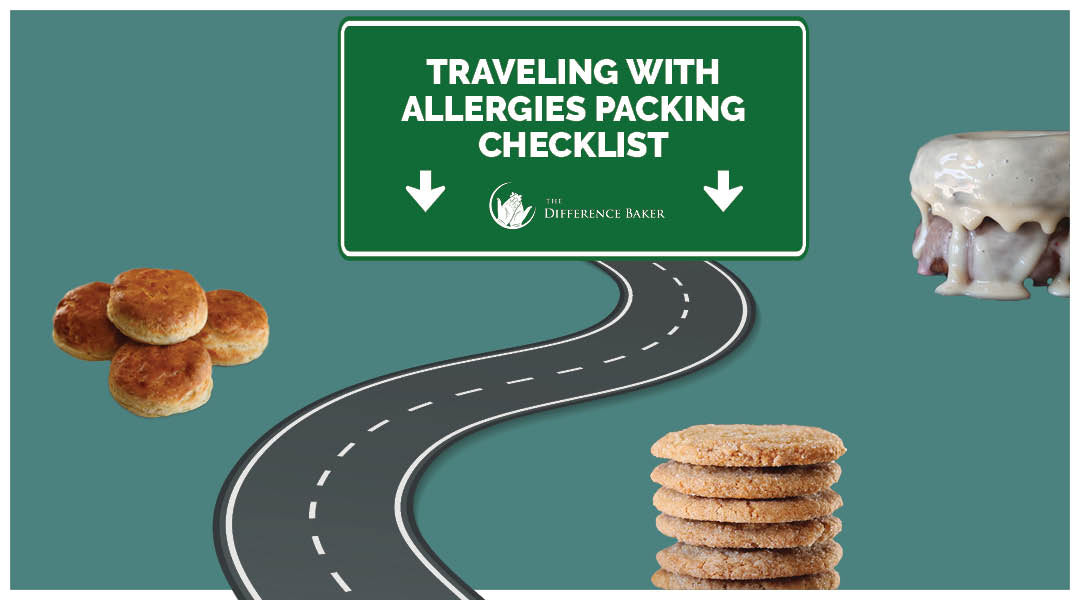 How to Travel With Food Allergies
Warm weather is just on the horizon! If you're anything like us, you might be dreaming up day trips, spring break adventures, and summer vacations. But it's no secret that things can get complicated with food allergies and restrictions. 
Whether you're traveling to your dream destination or for business, planning ahead is essential to keep you safe and fight off the stress. Here, you'll learn everything you need to know about traveling with food allergies, like what to do before and during your trip, what to pack, and helpful tips and tools.
Before Your Trip: How to Plan 
Planning a trip is fun. Researching hotel and airline policies is less fun, but we promise it's absolutely necessary and going to save you a lot of future headaches.
Make an Appointment With Your Allergist or Doctor
First and foremost, make an appointment with your doctor or primary care physician. Talk them through your health concerns and an overview of your itinerary (including method of travel, destination, and planned activities). 
This will allow them to give you specific recommendations to help navigate your trip, along with the chance to schedule appointments for any destination-required vaccines, refill your medications, and advise any other OTC medicines to bring with you. They may also give you a doctor's note to confirm your need for accommodations.
Determine Your Transportation Method
Driving 
If you're looking forward to a road trip, plan out your route and decide where to stop for food in advance, or pack some allergy-friendly meals. Check out our Ultimate Guide to Gluten-Free Fast Food to see great fast food options for those who are gluten intolerant. 
Flying
If you plan to fly, make sure to research the airline's allergy policy and snack offerings. Unfortunately, most airlines do not cater to food allergies, so plan to pack some snacks. If they give you a hard time at security, all you need to do is show your epi pen and/or health documents and you will be allowed to bring whatever it is you need to feel safe and have what you need.  
Additionally, you should try calling an airline representative and ask about accommodations depending on the severity of your allergy (like buffer zones or even temporarily suspending the allergen). When booking your flight, notify the airline again of these requests. You never know! 
Finally, try to book the first flights of the day (most likely to be recently cleaned) and opt for direct flights over connections and layovers.
Research Your Destination 
Hotels
When booking your hotel, make note of surrounding urgent care centers, emergency rooms, and hospitals. This can be scary, but in the event of exposure or other medical emergency, it could be a literal lifesaver. 
Health Insurance & Medical Care While Traveling
Also, look into your health insurance coverage regarding traveling abroad, and consider an additional travel insurance if it fits your needs. For more information on this topic, check out the CDC's article on getting medical care while traveling. While the goal is to never need to use these facilities, having the research stored and at the ready will grant you (and your travel companions) some well-earned peace of mind.
Packing For Your Trip
From allergy kits to chef cards, we'll walk you through the essentials we recommend.
Customized Allergy Travel Kit
This should always be in close reach and easily accessible, as this will contain your medications, treatment plan, and other medicines recommended by your doctor. This can include prescribed medications like Epi-pens and inhalers or other over-the-counter medicines (antihistamines, decongestants, laxatives, anti-diarrheals, pain and fever reducers, and motion sickness aids). You should also include preventative items like sanitizing wipes and face masks, along with copies of your Emergency Care Plan.
Chef card
This is one of the clearest and most direct ways to communicate your needs and allergies to food service providers, and it's one of the easiest to create. We recommend this interactive PDF template from FARE. It provides translations in several different languages depending on your travel destination! Keep the necessary food allergy chef card in your wallet to easily inform restaurant managers and chefs of your restrictions.
Documents
Besides your identification and passport/travel documents, don't forget your health insurance card(s), along with the contact information of your health care provider (doctor's name, office name, phone number, email, etc.) If you have a doctor's note, it should be easily accessible in a carry-on. You should also have extra copies of your Emergency Care Plan to distribute as needed.
Allergy-friendly Snacks
Snacks are universal. Ingredients, however, are not. Make sure to bring your favorite allergy-friendly and nutritious snacks with you! Check out our favorite travel-friendly goodies from The Difference Baker that can even be shipped nationwide!
The Best Allergen-free Snacks for Travel
Pack snacks that are protein rich to keep you full longer during your travel.  Some family favorites for us:
Packing Medications
When packing medicines, make sure to research ahead of time if they are free from the allergen you need to avoid. For instance, gluten is hidden in a ton of medicines. Some companies are getting great at labeling what allergens these OTC medications are free from, but most do not so you'll have to do that homework. Most of the Amazon brands and more natural companies like Genexa are allergen free.  
Allergy Medications to Bring
Always carry 2 epi pens in the event that you have to use 1.
Pack benadryl and have it with for easy access.  
If your issue is gluten, GlutenEase is rated a very good digestive enzyme in the event you get glutened by accident!  
During Your Trip: Tips to Keep You Safe
Finally, we've gotten to the good stuff! From discussing your needs with your travel companions to allergy-friendly tools, we'll help you make the most of your travels. 
Discuss your needs with travel companions
Make sure they each have copies of your Emergency Care Plan. Walk them through each step, especially regarding early signs of exposure and administering necessary medication (such as an Epi-pen). Communication is one of your strongest allies! 
If you're flying, confirm that the flight crew has knowledge of your allergy and will accommodate your needs. Depending on the severity of your allergy, you may also want to wipe down the seats and trays with sanitizing wipes and avoid provided pillows and blankets that can easily absorb potential allergens.
Use allergy-friendly tools!
One of your best resources while traveling in an unfamiliar area are apps. Using allergy tools will help tremendously in the search for restaurants and other safe spaces for food allergies. You can also make reservations ahead of time and use them to help navigate where you can get a quick safe snack. Our favorite tools:
Use Your Chef Card
Use your chef cards any time you go out to eat, and confirm with the restaurant manager and chefs that they understand your food restrictions and can make necessary accommodations. And as always, check nutrition labels thoroughly on packaged foods.
When in Doubt, Avoid it
When in doubt, don't eat it! We recommend avoiding non-packaged foods in developing countries and anything that you can't clearly determine the ingredients, including street food/food trucks which have high probability of cross contact.
Allergen-free Travel Snacks near Washington DC
We hope this guide can be useful for you and your loved ones as you prepare for the traveling season to come! And if you happen to be traveling through the Washington DC and Northern Virginia area, be sure to stop in The Difference Baker for your favorite allergy-friendly meals and treats. 
X