Love is our first ingredient
The Difference Baker is (humbly trying!) to make a difference in the lives of people with food restrictions. All our products are certified free from: Gluten, Peanut, Tree nut, Soy, Fish, Sesame and Crustacean.
But never free from flavor!
We believe allergen-free food can be just as delicious as any other (maybe even more!) The Difference Baker approaches food with unconventional thinking, a nerdy love of the science of baking and a super-obsessive attention to detail and standards.
That's the difference!
Through countless hours of trial and error and a whole lot of prayers, we've perfected our recipes to bring hope and joy to those who used to have to miss out on life's sweetest moments. The Difference Baker wants to make sure everyone is included when it comes to celebrations or even just an everyday treat.
Everything we make, whether you eat it in our bakery in Virginia or 2500 miles away, is freshly baked or flash frozen to preserve quality and taste without adding any preservatives. We also have many dairy-free, egg-free and legume-free menu items. We have keto and vegan options including our vegan fryer which uses 100% organic non-GMO sunflower oil.
View our full menu here.
View our certifications and awards here.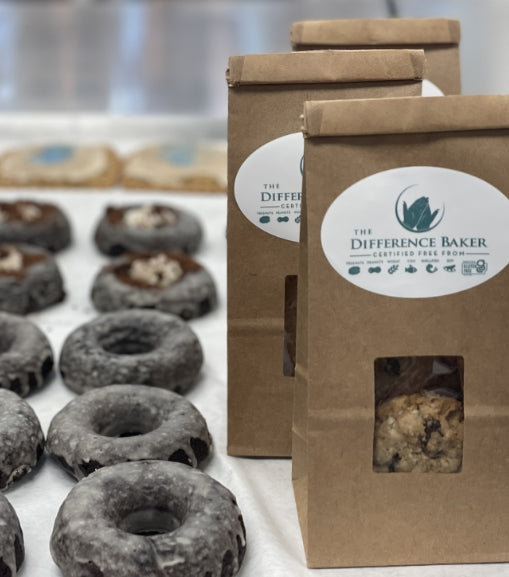 Want to create allergy-safe food for your business but your kitchen just isn't quite equipped? Rent our kitchen space! More safe food = more happy people. We are all about that!