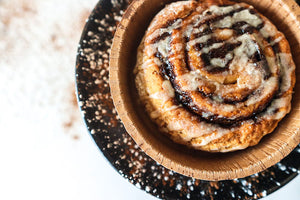 Description
Customer favorite for sure! Pop in the microwave to reheat and it will taste freshly baked. It is the perfect texture and filling mix. You can't go wrong with our cinnamon rolls for any occasion.
Ingredients
4 Pack of our infamous cinnamon rolls! 
GF Flour (rice flour, brown rice flour, tapioca starch, potato starch, potato flour, xanthan gum, pectin (lemon derivative) Water, Tigernut Flour, Ripple Milk (Water, Pea Protein, Cane Sugar, Sunflower oil, Contains less than 1% of vitamin A palpitate, vitamin D2, vitamin B12, dipotassium phosphate, tricalcium phosphate, sunflower lecithin, natural flavors, sea salt, guar gum, gellan gum), Tapioca Starch, Cane Sugar, Vegan Butter (Palm kernel and palm oil, water, sunflower oil, pea protein, sunflower lecithin, lactic acid, natural flavor, annatto (color), vitamin A palmitate), Pumpkin, Honey, Apple cider vinegar, Vanilla (Water, Alcohol, Extractives of Vanilla), Baking Powder (Potato Starch , Sodium Bicarbonate , Sodium Pyrophosphate), Baking soda, Yeast, Salt, Brown Sugar, Cinnamon, Powdered Sugar (organic cane sugar, organic tapioca starch) FREE FROM THE TOP 9 ALLERGENS!
Reviews