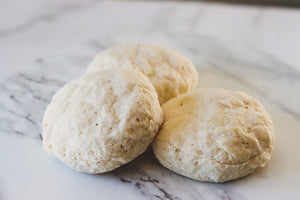 Description
These biscuits are free from the top 9 Allergens and you would never know it. They are buttery, flaky, super light and toast to perfection!
Ingredients
1/2 Dozen, comes cooked and frozen! 
GF Flour (rice flour, brown rice flour, tapioca starch, potato starch, potato flour, xanthan gum, pectin (lemon derivative)), Water, Yeast, Apple Cider Vinegar, Sunflower oil, Baking Soda, Cream of Tartar, Salt,  Vegan Butter (Palm kernel and palm oil, water, sunflower oil, pea protein, sunflower lecithin, lactic acid, natural flavor, annatto (color), vitamin A palmitate).
VEGAN
Reviews